Sunday, November 28, 2010
7:00 PM
|
Posted by Hellie Sinclair
|
|
Edit Post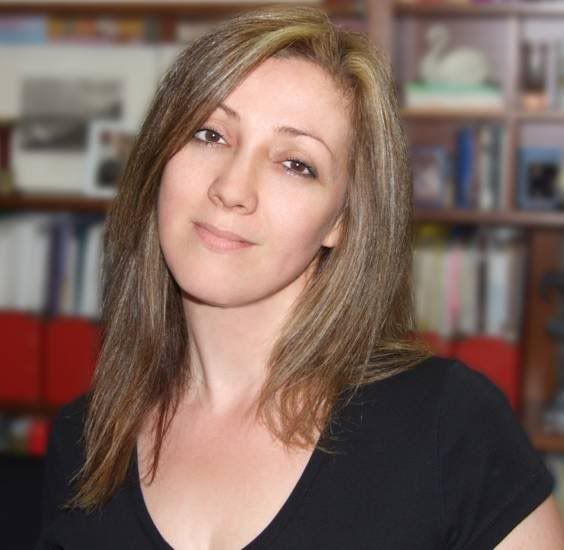 *camera zoom on huge four poster bed with vivid (and lurid) purple sheets and comforter, trimmed in gold. In the center of the bed is the always fabulous Captain Jack Sparrow, wearing silky pajamas with pirate duckies on them; he's got a stuffed bear with an eye patch in one arm and a bottle of rum in the other hand*
JACK
: *gesturing with his bottle of rum* Good evenin', pirates and FOPs to another Fabulous Interview with the Fabulous Captain Jack Sparrow. Tonight's guest, the incomparable Ms. Lila DiPasqua, is going to read us a story….
LILA
: I will not read you Love You Forever again. I've read it to you ten times already. You quoted the last page—
JACK
: *scowling and waving a 'shushing' hand* I meant one of your fairy tales, Lila. *settles back into the pillows, pats a place beside him, grins roguishly* I wanted you to tell me one of them. Something out of
The Princess in His Bed
. I always like a fair princess, provided she doesn't need to be rescued or anything.
LILA
: Which one?
JACK
: I don't know. Why don't you tell me more about each one and I'll pick one.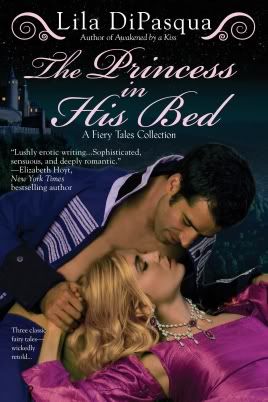 LILA
:  Okay.  But I'm not sitting on that bed with you.  I'm fine right here on this chair. *smoothes blue taffeta skirts and yanks up slipping bodice* Where in the world did you find those pajamas, anyway? *shakes head* Never mind.  I'd rather not know.  Now, what was the question?  Oh, yes, about my Fiery Tales in THE PRINCESS IN HIS BED.  I've taken three classic fairy tales, The Emperor's New Clothes, The Ugly Ducking and The Princess and the Pea and scandalously retold and renamed them,
The Marquis' New Clothes
,
The Lovely Duckling
and
The Princess and the Diamonds
.  Yup, that means you get three hot historical heroes in one book!
The Marquis' New Clothes—
Tall dark and sexy, Adam de Vey, Marquis de Nattes has a penchant for fine clothes and beautiful women.  And an abundance of both!  Unknown to him, he also has a stolen ring in his pocket.  Aimee de Miran must get it back.  In order to search his pockets, Aimee must get very close to Adam and intends to seduce the libertine.  She doesn't know Adam has wanted her for years.  And that he has a seduction of his own planned!
In
The Lovely Duckling
, I didn't take a heroine who just needed some dressing up.  The fire that claimed the lives of Emilie de Sarron's parents, left scars on her body. Emilie has put up with horrible taunts and cruel names all her life.  Worse, at her introduction into society, she was horribly teased and publicly humiliated—the hero, Joseph, regrettably a part of this fiasco.  It was the final straw.   For ten years, Emilie withdrew from society.  Now she's back and she's determined to grab a bit of bliss—albeit strictly physical.  Believing love and marriage are unattainable, she's convinced that at least a physical encounter is doable.  How?  Well, she's going to use the anonymity of a masquerade—orgiastic—ball in order to find a willing lover, and indulge. She never expected that the very man she gives herself to is none other than Joseph.
Mathias de Tesson, Marquis de Montfort (
The Princess and the Diamonds
)—is a former gambler. A man who'd always enjoyed vice. Now a spy for the Crown, he is working on enforcing the ban the King has placed on Basset—a card game that has brought about the ruin of many noble families.  The problem is, he can't seem to unravel the mystery surrounding the lady who keeps showing up at the gaming den, gambles with pea-sized diamonds and dresses as a man.  He sees through her disguise.  He knows how to melt her icy façade.  Too bad he doesn't know the woman, whom he has deliciously debauched, is none other than the King's own daughter.
JACK
: This is difficult. *takes a drink of rum* It will require some thinking on my part.
The Marquis' New Clothes
is compelling—I always admire the fine fit of a velvet jacket; and I can't resist a shy maiden, since every woman has her charms. *another roguish glance* But
The Princess and the Diamonds
, a girl who enjoys something hard in her bed and comes with her own wealth? That's the clear winner. Which of these stories is your favorite?
LILA
: *noticing the roguish leer, yanks up her bodice a little higher and crosses her arms over her chest*.  I don't have a favorite.  I love them all, for different reasons.  I couldn't choose a favorite among them.
JACK
: I see the problem. It would be like asking me to pick my favorite bottle of rum. 1794 cask of stolen rum from
The Falcon
. You know. If you pressed a gun against my head or anything. But seriously how did you get into this fairy tale twisting?
LILA
: I was raised reading fairy tales.  I fell in love with historical romance at age fourteen. And I took my love of fairy tales, history and passionate love stories, and blended them into steamy yet romantic anthologies in AWAKENED BY A KISS and THE PRINCESS IN HIS BED (books one and two in my Fiery Tales series).  Though the characters and settings might differ in my stories, you can always expect to find a sinfully seductive rake, a strong smart heroine who will make him lose his heart and scorching-hot love scenes that will leave you breathless. Prepare to be swept up and scandalized! 
Ahem…
*smoothes hands over her skirts again, unnerved by the rakish gleam in Jack's eyes*
JACK
: What stories will you be trying your hand at twisting next? Any pirates for your bedchamber perhaps?
LILA
: No pirates this time.  Sorry, Jack.  My next hero, Jules de Moutier is devilishly handsome, drop-dead sexy and a former officer of the King's Navy in my
first full-length Fiery Tale
—
A MIDNIGHT DANCE—out August 2011
!!  A steamy retelling of Cinderella—as it's never been done before!  It will be just as romantic and steamy as AWAKENED BY A KISS and THE PRINCESS IN HIS BED with one sinfully seductive rake and a strong smart heroine who will make her prince lose his heart.  Or his silver.  Whichever comes first.  Here is a small blurb:
A MIDNIGHT DANCEBerkley (Sensation)Historical RomanceAug. 2011
Inspired by the tale of Cinderella, Lila DiPasqua weaves a steamy story that offers a glass slipper, a dangerous deception, and an impoverished beauty determined to find her handsome prince…and make him pay.
JACK
: What is your Call Story? And what advice would you give any struggling writers?
LILA
: I actually never got "the call".  My agent sent me "the email".  We'd been emailing back and forth that day about various projects.  Then about mid-afternoon my agent sent me another email.  I opened it, read it and screamed.  It was summer vacation and my kids where home.  Startled, they came running into my office.  After assuring them that I hadn't fallen, seen a spider or lost my mind – I reread the email three more times before I was sure I'd read it correctly.  Berkley was interested in my historical romance AWAKENED BY A KISS!  It took a few more days until the deal was finalized.  I officially sold to Berkley the day before I was to attend the Romance Writers of America conference.  I packed, jumped on a plane, and arrived in Washington still reeling.  I had an amazing time at the conference.  It was such a thrill getting to meet my wonderful editor and agent in person!
My advice to writers is: Write what you love. Also, keep working on your craft and believe in your gut instincts when it comes to your story.  Don't second guess yourself.  Lastly, never, ever give up.  You can never get published, otherwise.   :)
JACK
: And final question before I turn you over to the crew: it's a rainy Saturday and you're curled up on the couch in your pjs, reading a book and sipping on something warm. What's the book, what are you drinking, and what kind of pjs are you wearing?
LILA
:  Ah…what do you mean, "turn me over to the crew"?  They're all Johnny Depp/Orlando Bloom look-alikes, right? *lifts a brow as she contemplates walking the plank if the answer is, "No"*.  To answer your questions, I'd be reading a history book—geeky of me, I know, but I love history!  I'd be drinking coffee and I'm wearing my pink pjs.  Just plain pink.  Sans the duckies.
QUESTION: What would *your* answer be to Jack's question: it's a rainy Saturday and you're curled up on the couch in your pjs, reading a book and sipping on something warm. What's the book, what are you drinking, and what kind of pjs are you wearing?GIVEAWAY: Today I'm adding some extra, totally fun stuff to my giveaway!! YAY! One lucky commenter will… 1. Not only win a copy of THE PRINCESS IN HIS BED…
2.  You also get a copy of STUD MUFFINS (the tagline to this book reads: Luscious. Delectable. Yummy…and Good Muffin Recipes, too!) This book is a total treat!  *grins*3.  Oh, and that's not all….in celebration of the holiday season, I'm also adding a Christmas ornament—a pretty Cinderella slipper for your tree…Did I mention I'll be signing the ornament?Giveaway is open WORLDWIDE.
THE PRINCESS IN HIS BED
A Fiery Tales Collection
By Lila DiPasqua
Historical Romance
Berkley (Sensation) 

ISBN: 978-0425237007
OUT NOW! 
Inspired by "The Emperor's New Clothes," "The Ugly Duckling, and "The Princess and the Pea," Lila DiPasqua spins three sexy tales that give new meaning to the term bedtime story…The Marquis' New Clothes:
To save her cousin, Aimee de Miran must retrieve a jeweled ring from the most sinfully seductive man at court, the Marquis de Nattes. But to search his considerable wardrobe she'll have to get very close to the notorious rake…and soon she finds herself very close to him indeed, with his clothes—and hers—utterly forgotten…
The Lovely Duckling:
Reputed for his carnal skills, Joseph d'Alumbert prefers amorous encounters without emotional entanglement—until a quick-witted lady stirs tender feelings and hot desire. Emilie de Sarron suffered burns to her body as an infant, and keeps her scars—and her heart—well hidden. But Joseph is determined to peel away her inhibitions, one slow steamy kiss at a time, to reveal the beautiful swan inside…
The Princess and the Diamonds:
Princess Gabrielle can't sleep at night. There is something hard in her bed. No, not just the stolen diamonds tucked under her mattress, but the handsome Marquis on it….whose carnal talents she can't resist. But he threatens her secret mission, and worse, she stands to lose far more than the diamonds---her heart is at stake….
"…Strong-minded heroines you can relate to, breathtaking carnally gifted male leads…DiPasqua writes with a comfortable elegance and grace, and in turn, crafts a sexy collection that readers will love."
– Fresh Fiction.
"Ripe with steamy affairs, these lusty stories are hot enough to warm the coldest winter night."
– Publishers Weekly
Allow me to introduce you to my sexy rake, Adam de Vey, Marquis de Nattes.  Read an excerpt from The Marquis' New Clothes in THE PRINCESS IN HIS BED – http://www.liladipasqua.com/princessbook.html Read a juicy excerpt of AWAKNED BY A KISS—http://www.liladipasqua.com/awakenbook.html
About the Author:
Lila DiPasqua writes wicked & witty historical romance for Penguin/Berkley. She lives with her real-life hero husband and three children and is a firm believer in the happily-ever-after. She loves history and enjoys traveling. She has been to four continents so far. Her novels, AWAKENED BY A KISS, and THE PRINCESS IN HIS BED are featured in Doubleday as well as Rhapsody Book Clubs.  To learn more about Lila and her books, visit
www.LilaDiPasqua.com