Thursday, August 28, 2008
8:00 PM
|
Posted by Hellie Sinclair
|
|
Edit Post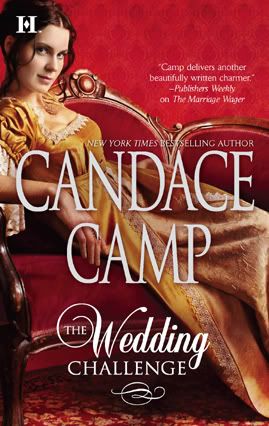 Lisa: Break out the rum, Captain, blogging with us today on the ship is historical author Candace Camp. Candace's first book-Bonds of Love was published in 1978. She currently has 44 (correct me if I'm wrong) published books, both contemporary and historical. Her next book- The Wedding Challenge will be released in September and is the third book in her beloved Matchmaker Series. Welcome aboard Candace! Help yourself to the rum and any hot deck hands we have running amok
Candace: Thank you. It's great to be here. In this weather, anything with rum sounds great---and if you happen to have a deck hand running around that looks like Johnny Depp, I'll be happy to accept him, as well. But I have to tell you, you were a little low on the book number. The Wedding Challenge will actually be my 57th book---61st if you also count the four novellas I've written for Harlequin anthologies. The Wedding Challenge is the third book in the series. There's a fourth one, The Courtship Dance, due out February, 2009. The Wedding Challenge is about the Duke's sister, Callie, who has appeared in the first two books. I'm afraid everyone will have to wait until The Courtship Dance to learn what happens with the Duke and Francesca---but take heart, all Duke and Francesca fans, they are in The Wedding Challenge more than in the first two books, and the reader will learn a little more about their pasts.
Lisa: Candace can you share with us how long it was after your first submission that you became published, and can you share your call story?
Candace: I sent in my very first novel to Avon; back then, the publishers still were very active with their slush piles. Unfortunately, Avon rejected it after about six months. So I sent it to another company; the name, I believe, was Pyramid. A few months after I sent it in, I graduated from law school in North Carolina and got a job back in Texas, so I moved to Paris, Texas. I had by this time sort of given up on this company wanting it. I hadn't given up on submitting it again, but it had gotten pushed to the back of my mind. I had been working in Paris a couple of months, and one day I went home at lunchtime to get something at my apartment, and I picked up my mail. There was a letter there from Jove Publications, a division of Harcourt Brace Jovanovich. I had no idea what it was, but I opened it. The letter was from an editor at Jove. It seems that Jove had been Pyramid and had been sold to HBJ in the meantime and changed their name to Jove. This editor liked Bonds of Love and wanted to publish it, but they had been unable to reach me by phone and so were writing me a letter in the hopes that it would be forwarded to me.
I started jumping up and down and shrieking like a maniac and immediately called my mother and told her, and we both did some more shrieking. (Thank goodness, there was no one else around at the time, or they would have thought I had gone insane, I'm sure.) Then I called the editor, afraid that they might have changed their mind in the meantime, but they had not. Needless to say, I went back to the office a little late, but grinning like crazy.
Lisa: Out of all the wonderful characters you have created over the years do you have any that you hold a greater affection for more than the others?
Candace: I definitely have my favorites---but I've written so many books, I'm afraid I have quite a few of them. I suppose that Luke in Rainbow Season is my very favorite male character. That book is my favorite of my books, as well. It is one that—forgive the cliché, but it's true---came from my heart. It is set around 1900 in East Texas, where my mother was born. It's a place and time that really resonate with me.
Other guys I really, really loved were Jeremy in Bitterleaf, Devin in So Wild a Heart, James in Evensong. (I tend to like emotionally wounded heroes, whether they're covering it with laughter, cockiness, or a sullen attitude.)
But I also love an honorable, stand-up guy, the one you can always rely on---like the Duke in the Matchmaker series or the modern Sutton and Marshall brothers from a couple of my Intimate Moments series.
I love strong, even bossy heroines, as you may have noticed from my books. Katherine from my very first book, Bonds of Love, Meredith from Bitterleaf, Miranda from So Wild a Heart, are all very dear to me. I love a scrapper, and Francesca, in her own very uppercrust way, is a scrapper, too. I love Francesca, and I really enjoyed writing a happy ending for her in The Courtship Dance.
As for families, the Marshall family, a group of three brothers I wrote about in a Silhouette Intimate Moments series, and the Suttons, another IM family, are favorites of mine. And probably the mad Morelands are my very favorite---from their odd parents down to the always-in-trouble twins, Con and Alex.
Lisa: What do you enjoy most about writing historical romance?
Candace: I love losing myself in another time and place. I've always loved history; it was my minor in college. And I have read historical novels ever since I can remember. I devoured Frank Yerby novels when I was young and Anya Seton books. Victoria Holt's and Dorothy Eden's nineteenth century gothics. Of course, I loved the Bronte sisters and Jane Austen.
One thing that is nice about historicals is that one has very set societies with which to work. It makes it easy to set up protagonists who one way or another challenge the system. My heroes and heroines generally tend to be rebels in one way or another, even if it's sometimes only a rebellion against social attitudes. Certain periods really appeal to me because the society is at this point of great change, a sort of breaking point, with an inherent conflict between old ways and new that makes for great settings. Two of my favorite periods fit in with this, though they are quite different. One is the Regency period, the era most of my current books are set in, and the other is the post-Civil War West. In both cases, the world is undergoing great change; there's been the upheaval of war; attitudes and mores are fluctuating; life is never going to be the same. They are also times that see the start of great changes for women---think of the sudden rise of female writers in the Regency period and afterwards---Jane Austen, Mary Shelley, the Bronte sisters. And in the settlement of the West, I think women had the opportunity to prove themselves and to establish their independence and self-worth.
But besides all that, I just love the clothes, the hair styles, the carriages, the houses, the language. Plus, the slower-moving world gives one a greater opportunity to develop my characters and their romance.
Lisa: You write most of your books in a series format. Can you tell us why you enjoy writing mostly series, and do most of them revolve around two or more characters throughout each series?
Candace: I started writing series by accident, simply because as I developed a family for one of the main characters in a novel, I would come to like their siblings or friends so much I wanted to write other books about them. Later, as with the Aincourt series or Lost Heirs series, I set out to write about a family. But I still sometimes stumble into them. When I wrote Mesmerized, I set out to write a stand-alone novel because I had just finished two series and was a little tired of them. But then when I came up with Olivia's odd family, I had to write about the other brothers and sisters, so I wound up doing a series of 4 books about the mad Morelands.
In my series, characters from the other books usually make an appearance in some or all of the books of the series; it just sort of depends on the story. The Lost Heirs series was a little difficult because I had to bring all the characters from the first two books back in for the end because it concerned the whole family, and arranging that scene got a little unwieldy.
But I usually don't have a set of characters like the Duke and Francesca who have an important role in each of the other books, leading up to the last book that's solely about them. But the matchmaking idea lent itself to doing the series this way, and I really enjoyed it. From the reader responses I've been getting, I think that my readers have liked it, as well.
Lisa: Can you share a blurb from your soon to be released book entitled The Wedding Challenge?
Candace: I'd be happy to. In The Wedding Challenge, Lady Calandra Lilles, the Duke of Rochford's younger sister, sets out to find a husband, so naturally she turns to her friend Francesca, Lady Haughston, for help. Tired of having her suitors frightened away by her protective older brother and sure, after five years on the marriage mart, that she is simply not the type to fall in love, she determines to make a 'good match.' Armed with a list of attributes that her future husband must have, she and Francesca start their social hunt. However, she soon finds, to her astonishment, that there is a man who can steal her heart away--- unfortunately, it's Lord Bromwell, her brother's sworn enemy and the last man in London she should trust.
Lisa: Are you currently working on any future series?
Candace: Yes. I've finished the fourth book of the Matchmaker series, The Courtship Dance, in which, at last, Francesca and the Duke get to have their own story.
So now I'm at work on a new series, just in the planning stages right now. I'm not even sure of a name for the books or series, although I'm working with a tentative series title of Willowmere. It will be three books and will concern three Regency noblemen, half-brothers, who have a gaggle of marriageable young ladies dumped on them when a relative dies. It's up to them to see the girls established in society and married well, but how are they to accomplish this with four independent and unpolished American beauties?
Lisa: Candace, thank you again for cruising the waters with us on the Romance Writer's Revenge. We hope you have enjoyed the rum, and companionship. We can't say enough, how much we admire you as an author, and we wish you much success with the release of The Wedding Challenge. Mateys, keep your eyes peeled for the release of this much anticipated third book in the Matchmaker series. Thank you. It's been so much fun talking to you. I hope to sail these waters again sometime!