Sunday, June 27, 2010
8:00 PM
|
Posted by Hellie Sinclair
|
|
Edit Post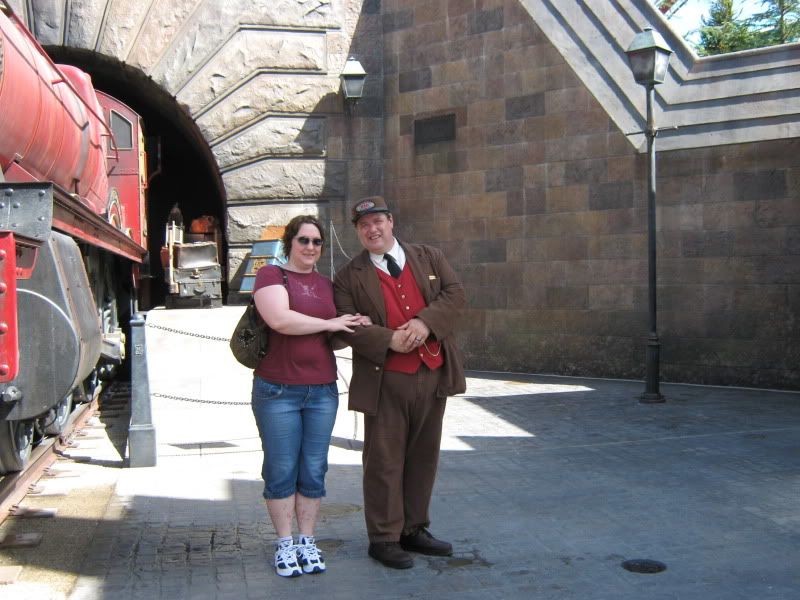 The lines were long, the butterbeer was delicious, and the candy at Honeydukes was exactly like you see in the movies. (Though I don't think the Bertie Bott's folks make the earthworm or dirt flavors any longer, so it wasn't as festive as the boxes of beans I bought in 2007 that had those flavors. Soap was good too.) If jellybeans aren't your thing though, there are bars of Honeyduke's chocolate in case those nasty dementors (found in The Forbidden Journey ride) knock you out. There are also peppermint humbugs, fizzing whizzbees (these were sold out), chocoballs (I don't know if they actually made you levitate), peppermint toads, chocolate frogs, and beautiful suckers. (I didn't see any acid pops this time, but I imagine they're around. They had pygmy puffs, but sold out of them the first day. And good luck finding a Harry Potter wand.)
Next door in Zonko's Joke Shop were sneakoscopes, screaming yo-yos, and a number of muggle joke items, like chattering teeth and whoopee cushions. The Owl Post could standard mail a postcard to you (which I did, complete with a Hogsmeade stamp); and Dervish and Banges was insanely crowded. Mr. Ollivander was everything you'd expect in a spooky wandmaker.  Moaning Murtle haunts the bathroom, but she's actually quite pleasant. The Three Broomsticks and the Hogs Head were both packed, but when you taste the butterbeer, you understand why. The Cornish pasties are really good too.
The rides are…well, rollercoasters. I'm not a rollercoaster fan. I have this gene from my mother, where she'd remind you of every headline about rollercoaster catastrophes, and most of the time on the ride, I'm mentally screaming, "I'm going to die!" This is even true on the kiddie rollercoasters. It's sad really. The Dragon Challenge offered to let you ride the Chinese Fireball or the Hungarian Horntail (who was blue instead of black, but whatever). Clearly the only reason we picked this ride was because it was only a 10 minute wait. I can see why the line was short: no one repeated this ride. Once I was strapped in, my feet dangling over air, all I could think was:
This damned ride flips upside down several times. What were you thinking?
And we were off! I gulped as we climbed the hill, and then didn't draw a breath as we dropped the incline and immediately began whipping around the park. I closed my eyes out of self-preservation. In my head, all I could think was: "This ride is 45 seconds, maybe a minute, breathe, breathe, OMG! OMG! Breathe, breathe, you're fine, you're fine, oh, thank God the ride is over." I shook as I exited, looked at Susan, and said, "I don't need to ride the other dragon for comparison. I'm good." She was thrilled to know this.
Again, I repeat, the kiddie friendly Hippogriff ride wasn't my cup of tea either. But at least I wasn't so paralyzed that I could actually scream for the duration, unlike with the dragon. But my favorite ride, the ride worth going to, was The Forbidden Journey. You stood in line for about half your life, winding your way through parts of the castle. At first you're not going much of anywhere. At one point, it dawned on me we were standing in the greenhouse, and Susan turned and said, "So help me if we've stood in line for 90 minutes and we cross that threshold and there is only a ride and no castle parts, I'm going to be pissed." After that Dragon crap, you'll understand I was suddenly very Zen. "Be cool. It's not going to be just the ride. There will be stuff to see." With such authority, you'd think I had already been on it. The doors finally opened to us and voila, Hogwarts. There were statues and the magical hourglasses that kept points for the houses. On the walls and in a big gallery, there were talking portraits. The four heads of houses were particularly entertaining; and though I'd never seen them in a movie or had them particularly described, I could figure out who was who pretty quickly. Salthazar Slytherin was deliciously nasty—I mistook him for Phineas Black (because they look rather similar, I think)—but that was immediately corrected by Helga Hufflepuff. You couldn't mistake Godric Gryffindor; and the cool lady in blue with the crown on her head couldn't be anyone but Helena Ravenclaw. We moved into the next room and saw Professor Dumbledore's office—which incidentally is where I began hopping up and down and squealing. Books floor to ceiling in his office. The pensieve. The big phoenix statue.
In the next room we get to see Harry, Hermione, and Ron, who promise instead of the Professor Binn's lecture we're going to, they'll be sneaking us out for a Quidditch match. (We get to play hooky in Hogwarts! How cool is my life?) Finally we get to the ride itself, after hearing the sorting hat sing to us about what the ride will entail—all in rhyme. Strapped into a bench and off we're flying in a simulator ride with dementor and acromantula puppets. We get to see glimpses of the Chamber of Secrets and the Forbidden Forest. We get chased by a dragon and get to play in a Quidditch game. Good times. Couldn't wait to do it again.
The Wizarding World of Harry Potter is definitely an ode to the fans. Lots of cute pointy topped houses with snow, which looks incredulous when you're standing in 100 degree heat; and the Hogwarts train at Platform 9 ¾. The Hogwarts castle is supremely detailed; as is Hagrid's Hut. I have little stamina, so by 2:45 on the second day, I uttered words that I never thought would come out of my mouth: "Let's leave. I'm all Harried out."
In fact, I'm still Harried out. I need a vacation from my vacation. But I did have a brief thought—in the midst of all the Harry Craziness—which was: I bet a theme park with Twilight would be crazier. I bet there would be a rollercoaster like the one at my local Six Flags called the Timberwolf. Wild, crazy, and ill-advised—and so has Jacob written all over it. There'd have to be a vampire rollercoaster, more like the Dragon challenge, where you flip over and over again, doing loop-di-loops and drop suddenly from several hundred feet. And I'm sure the simulator ride would have something that had to do with the Volturi and that meadow that started all the fuss. It would be insane. There'd be shops with dream catchers and shops with Indian knickknacks. The Italian restaurant where Bella and Edward had their first date. It would be chaos. Granted, if you want to go to Forks, WA, you sorta get that. But without the rides. Everything is better with rides.
If my Adam & Eve story were a theme park, there would be a rollercoaster of marriage ride (lots of screaming banshees in that one and deceptive lulls before air crushing drops), and a Lucifer ride where he'd by turns scare you to death and tempt you beyond all reason. His stores would feature every tempting but useless item your money could (and would) buy. And there'd be a sex shop. Eve would have a confectionary shop and sell pastries. Adam would have a golf store…and probably a golf simulator game ride.
So if your book were a theme park, what would the rides be? What would be featured there? If your favorite book series were turned into a theme park, what would have to be there to make it perfect? Anyone else want to see the Wizarding World of Harry Potter?