Tuesday, January 27, 2009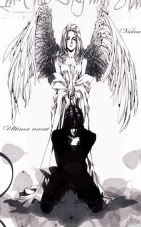 It wasn't easy. The shadows did little to hide me from curious eyes as I made my way down the sidewalk without shoes, my skin black and blue and what little was left of my clothes hanging on me by a thread. The rain beat down on me and each drop felt like nails being driven into my skin. I couldn't remember the last time I felt this bad.
It was all because I couldn't let go of him.
I turned onto the darkened street, and looked up. My eyes lit up the sidewalk in front of me and I kept putting one foot in front of the other by sheer force of will. My head throbbed with each step and I slowed my pace and closed my eyes. I felt Caed watching me, laughing at my weakness, enjoying my pain. The longer I pushed forward, the faster his power grew. He leached every bit of my strength and waited for me to squirm like a worm in a mud puddle, slowly drowning but unable to help myself. I wasn't that weak. Yet.
Thunder clapped and I weaved unsteady on my feet and tripped onto the concrete steps. I brought my hand up to my forehead, the throbbing intensified until bile rushed up my throat. Electricity charged the sky, and goosebumps raced along my naked flesh. I didn't have to do this. I could ignite my flame and stick my hand in the water. It wouldn't be a painless death, but merciful compared with what I was about to do.
Instead I was selfish and stuck my finger in the doorbell.
I wrapped my hand around the wrought iron rail and hauled myself to my feet. My fingers clenched around the metal, pain radiated down my spine. I could feel my power welling up inside of me, threatening to overflow and I clenched my jaw until my teeth started to giveaway.
I never heard him come to the door. He opened it enough for me to see the firelight behind him, haloed around his dark head. Water dripped from my hair into my eyes and made my sight blurry. The rain kept coming down, soaking into me but as his eyes swept over me, I did not feel chilled.
He raised his black eyes until they met mine and I took a step into him. His hand brushed my cheekbone, thumb traced my lower lip. I trembled at the thought of what was to come next. He pressed the gun into my temple and his lips brushed against my ear.
"There is another way."
I choked on the words I wanted to say to him- my savior, my killer. Instead the only words I could push past my lips were, "Maybe next time."
I closed my eyes as I pressed my hand into his chest. Blue fire flickered to my fingertips and skittered along his chest just as he pulled the trigger.
****
I love the rain. There is something very pure and cynical about the rain. You might be wondering what I mean, and I'm not sure I can explain it. The rain is a way to cleanse, to purify, yet, the rain inspires me to do many things that go against this very nature. Many of the blackest moments I've ever thought of have to do with rain. It's almost as if you're being violated twice with the black moment, not only by the very thing that causes the black moment but also by power behind nature.
One of my favorite romance novel moments involves the rain. Sixteen years ago, I read my first rain scene in a
novel, Masque of Betrayal (Andrea Kane, 1993) and I fell in love. I wore the pages out of that library book. It was a very awe-inspiring moment for a girl who'd not noticed black moments or really ever thought about particular scenes in a book. There's something about the way the heroine, Jacquie Holt, finds her way to the hero's doorstep in the middle of the night in the down pouring rain. She's soaked to the very marrow of her being, afraid, yet not afraid- I just can't explain the feeling and emotion behind this scene.
I still remember it sixteen years later. Not to mention I've had to rubber cement my pages back to the spine of that book. That scene inspires me to write the right dark moment (not black moment, mind you, because there was nothing black about it, only that Dane, the hero, thinks Jacquie is a spy for the French.). Their relationship was so full of ups and downs but that moment was the perfect fit.   
For me, there are three parts of dark moments in a novel. There is the dark moment in the first third of the book that brings the hero and heroine together. There is the dark moment that seals our hero and heroine's fate together and then there is the ultimate dark/black moment that resolves the whole plot. Now, I like to refer to them as dark moments, because I'm still under the impression that black moments should involved death of the hero/heroine, or another main character.
Dark moments are my favorite kind of scenes in a book and I love writing them. There's always enough room for a little angst in the plot.
How many dark/black moments do you like to work into your writing? Readers, what are your favorite dark/black moments and which ones do you think are overdone? And can you remember any books that you've read where dark/black moments have stuck with you?
Influence this week-
The Bottom (Under The Flood, The Witness, 2006)