Sunday, October 31, 2010
*Captain Jack Sparrow's face looms suddenly in the camera before he backs up a little bit so we can see his hand gestures*
JACK
: 'ello, luvlies, it is your lucky day. Today, we're having another Fabulous Interview with Captain Jack Sparrow. Our prize—our booty, if you will—is the delightful and gregarious
Kylie Brant
, author of the treasure-worthy series, the Mindhunters… *leans in furtively* She writes about catching criminals. So don't tell her I'm a pirate. It's just our secret. *camera nods* Excellent. Then let's meet her! *opens door to cabin and halts* Er…what are you doing?
*camera zooms, sweeping around the cabin to show its disarray, crime scene tape, and one innocent looking woman holding a brush and powder*
KYLIE
: *straightening* Jack! You were running late, so I thought I'd do some investigation and research for my current WIP. I hope you don't mind. Your fingerprints are everywhere.
*camera zooms in on Jack's face who looks stricken by this knowledge*
JACK
: Yes, er, how industrious of you. You Americans, very, very hardworking. *removes the crime scene tape from the door and crosses threshold* Well, I wouldn't want to keep you from your writing. I know you're very disciplined.
KYLIE
: Well, yes, I have to be. Are you okay, Mr. Sparrow? You're quite pale.

JACK
: Captain. Captain Jack Sparrow. And I'm fine, thank you. The word 'discipline' makes me a little queasy. *braves a smile* Let's start the interview, shall we? Would you like some rum? *pulls a bottle from under a loose board and undoes the cork with his teeth* I'd like some.
KYLIE
: *finding a cup, wiping it out with her shirt, holds it up to Jack*
JACK
: That's okay. I don't need a glass. *Kylie gives him a look* Oh! Yes, of course, luv. Have a drink. *laughs, pours a healthy amount in glass* This is more like it. *sweeps off the chair next to him, dumping a pile of romances to the floor* Have a seat and tell me more about your series, the Mindhunters.
KYLIE
:  Ahh, The Mindhunters!  An admirable team of some of the best criminologists in the country, headed by the legendary ex-FBI profiler, Adam Raiker.  The investigators pair with law enforcement agencies to solve particularly high-profile and puzzling crimes.  *She smiles meaningfully.*  One might say the bad guys can run, but they can no longer hide.
JACK
: So just so we're clear, even though you're hunting criminals, you're not hunting affable pirates who happen to be looking for the Fountain of Youth, right?
KYLIE
:  Oh, we wouldn't think of it.  Affable pirates are some of my favorite people.
JACK
: Good. *reaches out and pulls her chair closer to him* You were too far away. *smolders at her* So the new book,
Deadly Intent
, you said? What is it about? And how pretty is the heroine? Does she like pirates?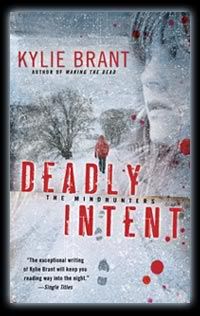 KYLIE
:  Macy Reid is a forensic linguist who pairs with fellow investigator Kellan Burke to find an eleven-year-old girl who's been abducted.  And Macy is pretty enough to have already captured the attention of Kell.  He's never been able to forget the one night they spent together.  You might want to watch it with her--he's the jealous type.
JACK
:  *appearing unfazed by the warning*  You write about some interesting topics: rape, kidnapping—is there something about you we should know? *reaches in his jacket and pulls out a folded piece of paper* See, this is your biography from your website. You wrote you love to read, hang out with family and friends, exercise, and flower garden. You're not killing your characters with flowers, are you? What sort of research do you do for your books?
KYLIE
:  If there are any bodies hidden in my flower gardens, you don't really expect me to tell you, do you?  You're not the most trustworthy pirate sailing these seas, you know.  I talk to all sorts of interesting people who advise me on plot elements for my books.  For Deadly Intent, I consulted with a forensic linguist, a mask maker, an assistant director of the Colorado Bureau of Investigation and a crime writing doctor who advised me on how long a severed thumb would keep--shall we say--fresh?  *Noting Jack's look of alarm, Kylie reaches over and pats his shoulder soothingly.*  Don't worry, I wouldn't think of using that last bit of knowledge on you.
JACK
: *smiles again, taking her hand to kiss it* That is reassuring. I always think a fine fantasy life is just the thing, though mine usually involve treasure, buxom wenches, and rum, but to each their own! What do we have to look forward to once we've read this book? What's coming out next—and when?
KYLIE
: Deadly Dreams, book five in the series will be released in April 2011.  Someone is enacting revenge on Philadelphia police detectives by burning them alive.  Risa Chandler is yanked back from semi-retirement by homicide detective Nate McGuire when her prescient dreams of death and fire might be the only hope of finding the killer.  In August 2011 Deadly Sins is released, which will be Adam Raiker's story.  Someone is targeting high profile people in Washington, DC for murder and suspicion falls on Raiker and his team.
JACK
: Serial killers? Really? How do you sleep at night? *takes a drink of rum, then pauses to pour more rum for Kylie* Never mind. Let's move on. What is your Call Story? That's always fun and upbeat and doesn't involve dead bodies.
KYLIE
:  *smiles blandly*  I sleep fine, Jack.  And I don't think I dare ask about your night time activities.  *She sips daintily from her slightly grubby glass*  My call story?  My, that's ancient history.  It so happens that I was home in bed-- *She frowns at the immediate look of interest on his face.*  --in bed sick with laryngitis. *She pauses to enjoy his crestfallen expression.*  The phone rang and it was Leslie Wainger's (senior editor for Silhouette) assistant on the phone.  She'd been searching for my contact information since apparently I had neglected to include that in my cover letter.  The assistant told me that Ms. Wainger was reading my manuscript as we spoke and would be calling me in the next hour or so.  She went on to say that she was excited because she'd found me herself in the slush pile.  Now I was too ignorant to know what a slush pile was, and besides, I thought she'd said flush pile, which didn't sound like a good thing at all!  After I hung up I started to question whether I'd dreamed the whole thing.  Had the assistant really called or had it been the result of a Vicks Vapo-Rub hallucination?  It was a few hours before Leslie Wainger did, indeed call and offer me a contract for the book.  When she discovered that I could barely talk she offered to call back in a couple days but I wouldn't let her hang up!  I managed to croak out my acceptance and so launched my writing career.
JACK
: Ms. Brant, Kylie, I can call you Kylie, right, luv? It has been my esteemed honor to host you today here on the ship for another edition of *turns to camera and grins* Fabulous Interview with Captain Jack Sparrow. I hope your Mindhunter series grows even more popular and successful. Is there anything you'd like to say to the crew? Any last recommendations or advice?
KYLIE
:  Thanks for 'having' me, Jack.  *She smiled sweetly at his quick look.*  It's been...surreal.  I wish I could say I hope to meet again, but I'm very much afraid if we do, it might involve handcuffs, and I'd certainly hate to be the one to put you behind bars.  So I've got a bit of advice for you and your crew.  *She leans forward and drops her voice conspiratorially*  Always use gloves, luv.  This place is lousy with prints, and you and your crew all have records in the system.
JACK
:
Okay, crew, you heard her--start wearing gloves, for crying out loud. In the meantime, let's parlay: are you avid fans of crime shows? What is your favorite? Do you also like to read books of romantic suspense? In your current WIP, do you have a villain, and if so, how would you profile him/her?