Tuesday, June 7, 2011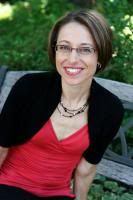 Hellion
:
Susan
! Welcome to the ship, and the first thing I want to say is don't worry!—we've had a long talk with Jack, so I'm sure we're not going to run into any of those problems we've had with new authors in the past where Jack has run off with them to an undisclosed location and done Lord knows what. *handing Susan a tankard of rum*
Susan
: *hopeful look as she takes rum, looking over her shoulder* I'd heard the rumors, of course, but I thought with how outrageous stories get, it was an exaggeration at best….
Captain Jack Sparrow
: Exaggeration? *Jack sliding down a rope from the Crow's Nest and landing on his feet to pose with his hands on his hips, taking up as much room in the camera angle as possible* I assure you the rumors of my prowess in the bed chamber are
not
an exaggeration.
Hellion
: *sotto-voice* They're completely made up. *Jack turns to glare at her; she smiles*
Jack
, darling, I'm so thrilled you could show up on time for a change. I was just telling our guest all about you. She was just telling me how disappointed she was that she missed out on your interview skills the last time she was here.
CJS
: *taking Susan's hand and making bedroom eyes at her* Extremely glad and honored to meet you, luv. Might I escort you to the couch?
Susan
:  *blinking*  Oh…my.  Would you? *Jack makes great strides in his wooing efforts in the three feet to the couch until Susan is practically lying sideways*
Hellion
: *rolling eyes and hurrying over to the table with a bottle of rum and a notebook with pen; plunks down rum in front of Jack, then seats herself to record the interview* Please proceed.
CJS
: *straightens and sits, arranges his coat* I'm quite capable of conducting my own interviews. You treat me like I couldn't find my way out of a telephone booth.
Hellion
: Well, there was that one time….
CJS
: *ignoring Hellion, smoldering at Susan* Just ignore her. I do. Why don't you tell me about this book of yours?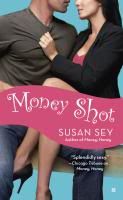 Susan
:
Book
? *shakes herself, snaps out of it.* Book!  Yes!  I have a book!  It's called
MONEY SHOT
, and it's fabulous.  Nearly as fabulous as you...  *trails off, staring.  Shakes self, snaps out of it.*  Okay, here's the skinny:  It's about a secret service agent--Maria "Goose" di Guzman--who, after a little speed bump at work, finds herself exiled to a frozen island in Lake Superior, chasing a counterfeiter who may or may not exist.  And the only local law enforcement available to help out is Mishkwa Island Park Ranger Rush Guthrie.
CJS
: The hero's name is Rush? *cocking eyebrow* I hope that's not an indication of everything he does. It's not, is it? If I had a name that spoke of my prowess, it would be Boulder. Rock hard and huge, massive, intimidating….
Susan
:  *Pause* I would *love* to know if that's true.
CJS
:  I'd love to show you.
Susan
:  *Mind wanders.  Day dreams are wonderful.  Shakes self.  Snaps out of it.*  Hmmm.  Maybe later.  Let's get back to Rush, shall we?  To answer your question, no.  He is absolutely not a guy in a hurry.  If anything, he's a fan of slowing things down.  Goose is all about the hurry up; Rush is all about taking the time to do things right.  Which is an excellent quality in a hero, don't you think?
CJS
: I knew you were a woman of keen intellect as well as beauty. *kissing her hand and then the inside of her wrist* Do tell me are your heroines all as beautiful and intelligent as you are?
Susan
:  *giggles.  Shakes self.  Snaps out of it.  Takes hand back, though reluctantly.*  Oh, much more so.  Maria--Rush doesn't care to call her Goose for some reason--is nearly six delicious feet of brainy sex appeal.  But she's hiding some dark secrets behind that pretty face and designer suit.  And Rush doesn't do secrets any more.  The decade or so he spent as a Navy SEAL left him with some serious scars on his conscience and he came back to his tiny island home town to heal.  He wants a real life now--honest, authentic, open--and a real-life happy every after.  But Maria's as determined to hang on to her secrets as Rush is to unravel them, and convincing her to take a shot isn't going to be easy.
CJS
: Secrets should stay secrets in my experience. I don't know if your hero—Rush, you said his name was?—can handle a fine woman like Maria. I knew a Maria once. *dreamy look* She was going to become a nun, but I changed her mind. Black was not her color. Maybe for your next book, you'll have a hero who is more pirate-like, like me. What will you be dazzling your readers with next?
Susan
:  Right now I'm trying to drum up interest in my Devil's Kettle trilogy.  Like any Minnesotan worth her long johns, I have a thing for Lake Superior, so I put my little town of Devil's Kettle right on the shores.
CJS
:  *cocks a brow* Long johns, eh?  I don't suppose you'd care to give a fellow a look?  I knew a girl once who wore long johns…*dreamy look*  I quite enjoyed them.
Susan
:  *disappointed*  Oh.  I'm not wearing them right now.  It's summer.
CJS
:  Not wearing them? I knew a girl once who wore nothing. Can I look? *famous smile*
Susan
:  Well… *Leans in, too.  Enjoys soulful eye contact, Hellion clears throat meaningfully, Susan snaps out of it.*  So!  My Devil's Kettle trilogy!  Right.  It's about three women, each of whom gets her own book but I should warn you, they're not sisters.  They're not college roommates or childhood friends, either.  Seems like those are the standards when you're talking about romance trilogies, but my women have nothing in common but a man.  And he's dead.
CJS
:  Charming.
Susan
.  I know, right?  Strangers at best, enemies at worst, they'll be sisters by the time I'm done with them. Let's hope my editor's interested in finding out exactly how that happens.
CPS
: *counting off on his fingers* Well, we've talked about your book, the hero, the heroine, and your next book. I think that about covers the small talk. How about I give you a tour of my bedroom?
Hellion
: Nice try, Jack, but Susan is too smart to fall for your wiles.
Susan
: Oh, I don't know. *wistful look* I could be, if someone would give him a bath.
CJS
: I just happen to have a bathtub in my cabin.
Hellion
: We have more questions for Susan. You'll have to show her the magnificence of your bathtub at a later time. *hands him a stack of notecards*
CJS
: *grumbling, flipping through the cards* Fine, but I definitely get a Bubble Bath Check. *winks at Susan, who winks back despite herself* You really won't believe how big my tub is.
Hellion
: He says that to everybody. It's not that impressive. It just looks bigger on a ship.
Susan
:  *shrugs* Doesn't everything?
CPS
: I'm ignoring you both now. *takes a drink of rum* First pirate question—this is dreadfully organized, Hellie darlin', really you should consider being a secretary—what was your favorite part in writing Money Shot?
Susan
:  Ooooh, torn on that one.  Mishkwa Island is home to an ancient coven of pagans who perform their ceremonies sky-clad--
CJS
:  Sky-clad?  As in naked?  *Cocks a brow*  On a frozen island?  In the winter?
Susan
:  Yep.  And checking out stacks of books on witchcraft from the library with my two little kids in tow was hilarious.  I'm sure the librarians were talking about me.  But what I really loved about writing this book was that all-important declaration of love scene.  Goose fesses up first and she does it so badly.  She's all awkward and reluctant and pissy and completely, devastatingly honest.  Rush isn't exactly Mr. Hearts and Flowers himself, after all, so he's completely knocked sideways by this and pledges his own troth.  And yeah, he actually uses the word "troth" he's so carried away by her.  *big, happy sigh*
CJS
: That does sound lovely. Not as lovely as a bath with the incomparable Captain Jack Sparrow, but there you go. *flips through the cards* Oh, yes, *waving a card* can't have an interview without this question. This is the Missionary Position of Interview Questions here: "What is your writing process like, and what happened when you got the call?"
Susan
:  Oh, my process.  It's so generous to call what I do a process.  It's more like what happens when you up-end a bucket of toys and release the toddlers.  It takes me forever to write a draft and then I have to re-write the entire thing three full times before I get it right.  Then there's the polishing and proofing, the fighting and whining, the tantrums and breakdowns.  A smart person would find something to do she's better at.  But me?  Heck, no.  I just write another book.  And as far as what happened when I got The Call?  Let's just say there was much rejoicing throughout the land and the tankards of rum flowed freely.  There may have been a bubble bath involved.
CJS
:  Now that sounds promising.  Tell me, darling, if I give you a call, will you stop talking and get into my bath?
Susan
:  *twinkling* I could be persuaded.
CJS
: Excellent.  Last question, then, before I insist Susan has a bath. Who are some of your favorite authors, and what are you reading right now?
Susan
:  When it comes to Susan Elizabeth Phillips, Jenny Crusie and Eloisa James, I'm a rabid fan-girl.  I also heart J. R. Ward and Jessica Andersen for the paranormal.  And I'm not usually a SF/F girl (not speaking Elvish or Dwarvish or Klingon or what have you) but I'm mad, crazy in love with George R. R. Martin right now and his Game of Thrones books.  It's like Tolkien wrote a soap opera, and I'm addicted.  All I want to do is read those books.
CJS
: Great answer. *standing and taking Susan by the wrist* You know I might have one of those books in my cabin right now. Let's go look.
Susan
: Which one?
CPS
: Doesn't matter.
Hellion
: Jack, stop harassing our guest. She may have questions for the rest of us. Susan, do you have any questions for us—or do you mind if the crew asks some questions?
Susan
: You know, Jack's question about my favorite part of writing MONEY SHOT made me realize that one of the reasons I love romance novels is the declaration of love scene.  I love that moment where a person strips himself utterly bare and just splats his heart on the sidewalk at the feet of his beloved.  That's the scene that takes my breath away, and when an author really pulls out all the stops it's the one I'll remember and circle back to with a big, happy sigh years later. 
So I'm interested to know--what's that scene for you?  The first kiss?  The meet cute?  The proposal of marriage? The first fight?  First sex?  What's the scene that makes the romance for you?  And is there a particular scene from a particular book that comes to mind?
Impress me and there could be an autographed copy of MONEY SHOT in it for you!  (Continental US only, though.  Sorry.)