Sunday, June 5, 2011
8:00 PM
|
Posted by Hellie Sinclair
|
|
Edit Post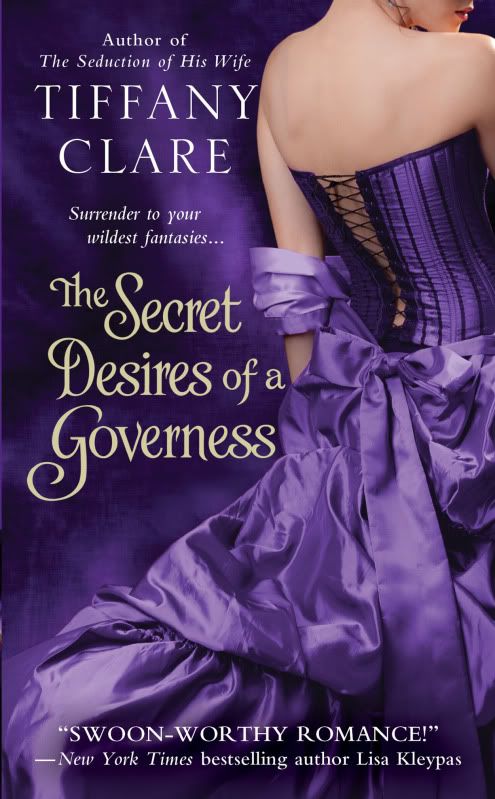 *camera zooms in on a classroom: old fashioned desks, quills, and ink pots, a big chalk board in one corner, and a large globe that looks out of date by about 200 years. Captain Jack Sparrow is seated—trying to sit comfortably to no avail—at one of the small desks*
JACK: Hello, crew, as you might have guessed, today is another edition of Fabulous Interview with the Fabulous Captain Jack Sparrow. *waves his hand, knocks over an ink pot* Shit. No wonder there are so many high school drop outs. How can anyone learn anything sitting at this torture device? *scowls at his damaged outfit*
HELLION: It's fine, Jack. We'll find you a new shirt later.
JACK: But I got this shirt from an Egyptian princess on her wedding night.
HELLION: *deadly voice* Are you whining?
JACK: *looking alarmed* No, no, I'm not whining. *smiles at the camera* As I was saying, today is another fantastic interview. With me. And oh, yes, Tiffany Clare. You may remember last time, she regaled us with all the mysteries of the harem life with her debut book,
The Surrender of a Lady
, and today, she's here to tell us about the surrender of a different kind of lady:
a governess
. *eyes bright* I do like a governess. Especially once you get them naked. Tiffany, do tell us about your governess and this tale. Is she naked?
*camera turns to show Tiffany Clare sitting behind the teacher's desk, looking every inch like a naughty schoolmarm*
TIFFANY: Well, not at first, but she does show up like a drowned cat—on the Earl of Brendall's doorstep….Abigail Hallaway has run away to become a governess. Why? Because she wants a little independence, and to be away from her happily married sisters when she's, well, almost a spinster! I know, 22 years old and almost a spinster!
JACK: Well, that is a start, I suppose. I do love older women myself, quite enthusiastic they are. And admittedly, there are no finer romantic words than "Let's get you out of these wet clothes." How about this hero? He doesn't sound very heroic, letting her stand there, possibly to get her death of cold. I would have whisked her out of her clothing first thing, then asked questions, but that's the kind of gentleman I am. What kind of man is this Earl of Brendall?
TIFFANY: Well, if you had a woman show up in your house, wandering around in the middle of the night, wouldn't you think her no more than a wayward ladybird?
JACK: I plead the fifth.
TIFFANY: He's pretty heroic as the story goes on though. You see, he's got these dark secrets and this past he wants to keep hidden from our fair heroine. He's all about his son, and protecting both him and his son's future, and well, getting under Abby's skirts. What's not to love? I adore Elliott! He just breaks my heart and he's just the kind of guy you want to give a big hug and say, I love you, so believe it, receive it, and indulge in that feeling.
JACK: You know, you're a lot more touchy feely than you were the last time you visited. I like that. Despite the hero being rather unheroic where clothing is concerned, it does sound like a fascinating story. Hellion was rhapsodizing about your previous book,
The Seduction of His Wife
, and she was very excited that this one had a connecting character from that story. Was it your intention to connect these books?
TIFFANY: Yes, it was! I love connecting books! Actually, the hero from
The Seduction of His Wife
does make a brief appearance in
Surrender of a Lady
:) My next trilogy is much more interwoven and connected than this series. I love the build up a series offers. You feel like you really get to know characters when they appear over a series of books as opposed to just having one book.
JACK: That is true, though rather sad when the series ends. I'm still not over Twilight. *Tiffany looks at him like he's mad; Jack clears his throat* Your first book had the premise of a harem/forced enslavement; your second book was about a reunion between a man and wife; and now this book—I've heard said—is a cross between Beauty and the Beast and Jane Eyre (which, of course, I haven't read because again, no naked women). You don't seem to stick to any one trope (as they're called). Do you have a favorite trope you like to write about or read?
TIFFANY: I don't have a favorite trope I prefer to read or write. I'm all about the characters. They tend to come to me fully formed, and then I just try and work with them to get their story on paper. For instance, I knew that Abby was going to run away to accomplish something 'better' with her life. I also knew I wanted no outside interference with her romance. And she had to be far away from her sisters, or they'd track her down. Voila, I needed a castle setting with a recluse hero. Enter Elliott. He's so dark and secretive and brooding and hot… did I mention the hot? Based him on Clive Owen… *Swoons* He's number two on my list (you know, the list of five people you could have without question)?
JACK: We're only allowed to have five on that list? *takes out a piece of paper from his jacket* I need to adjust my list. *winces at Hellion's glare* I mean, what will we be reading next from the exciting Tiffany Clare?
TIFFANY: I'm working on another trilogy for St. Martin's Press, something in the vein of
Dangerous Liaisons
.  Here's my blurb: Four friends in the pursuit of pleasure enter a dangerous game of wagers, seduction and temptation, but when one of their own is bent on a self-destructive path of ruin, they must put aside their schemes or lose everything they've come to hold dear.
JACK: Last time we talked about your Vixens and how important it is to have a great support system—blah, blah, blah, more women who aren't naked—so this time I thought we could just talk about you. *smoldering look, taking her hand to kiss it* A fast five—
TIFFANY: *The Look* I'm not into fast much of anything, and frankly you are a little short. And your shoes aren't doing much for your feet there, pretty boy.
JACK: *blows raspberry* I do love a woman who is a challenge. So we begin: Jazz or Rock?
TIFFANY: Jazz.
JACK: Vodka or wine?
TIFFANY:  I'm a whino.
JACK: Top or bottom?
TIFFANY: *The Look* BWAHAHAHAHA! Wouldn't you like to know?
JACK: *unrepentant smile* It was worth a shot. Fine. Favorite meal?
TIFFANY: Mum's cooking.
JACK: Favorite way to splurge on yourself?
TIFFANY: Any way possible :)
JACK: And what are you reading right now?
TIFFANY: Miranda Neville's,
The Amorous Education of Celia Seaton
(you're all jealous I got an advance, aren't you)! I do love my governesses.
JACK: Do you have any questions for the crew?
TIFFANY: What's your favorite trope to read? Do you have any favorite mash-ups you've read or want to read one day?