Wednesday, December 5, 2012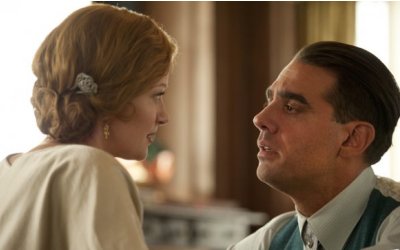 The season finale of Boardwalk Empire was this weekend. It's a violent, slightly depraved, awesomely written show. I can't watch it. My husband, however, loves it, and invariably, I end up in the room during scenes of it.
This week, I was walking through when I saw a creepy conversation between a man and a woman who did not look so comfortable. The conversation was sexual . . . and disturbing. I wasn't really listening to the words, but as the conversation went on, she grew viably frightened.
It's set in the 20s, it looked to be a woman without much personal power, in the presence of a man who clearly had the advantage and looked willing to take it.
Frankly, I got creeped out and bolted. I knew what was coming next. I got my water, grabbed my bedtime snack, and started to sneak back through the living room without actually looking back at the screen.
But you know those train wrecks? When you just can't help but looking? I looked . . .
This frightened, powerless-looking woman was in the process of strangling the man with his own belt.
I burst out laughing (which believe me, drew a strange look from the hubs). But it was just exactly what I never expected. I was prepared for the cliched female victim, who is run-over by the powerful male. I was prepared for some horrible assault.
Instead, she took the power, and flipped the whole scene on it's head. It was amazing.
Now, as anyone who does watch the show already knows, and which I found out later, it was actually some kinky sex they were having, rather than her killing him as I had assumed (rooted for?), but that didn't lessen the emotional ride the brief moments took me on.
I was emotionally ready for, and expecting, one thing, and bam! I got hit with the exact opposite. It's an emotional roller coaster I would love to take my readers on.
Anybody have any examples of when a cliche is turned on it's head? Ever get hit emotionally by a surprise you never saw coming? Do you love it or hate it when you get the opposite of what you expect? Got any scenes in your book where you lead reader's one way, and then whack them over the head with the opposite (and any advice for the rest of us trying to add one in)?