Thursday, September 1, 2011
JACK:
*spreading arms wide and grinning hugely* Welcome pirates to another Fabulous Interview with the Fabulous Captain Jack Sparrow. Today, I have with me none other than the New York Times bestseller,
Brenda Novak
!
BRENDA
: Hello, Jack, I'm so excited to meet you.
JACK
: *hastening over and kissing her hand, making googly eyes* I'm
excited
to see you too, my sweet. Perhaps I can show you how excited I am later, in my cabin?
HELLIE
: Jack! I'm right here behind the camera!
JACK:
You're invited too, luv. *whispers behind his hand to Brenda* Don't worry. I'll send her on an errand so we won't be interrupted.
BRENDA
: *pointing* You do know she's still recording.
JACK
: *smiling at the camera* Let's get to the questions, shall we? Brenda, luv, please have a seat here on my interview couch where I lay all my new authors…I mean, where all my guests spill…er…maybe you should sit on my lap?
BRENDA
: That might actually be a nice place to conduct an interview. *Blushing* Er…did I say that out loud? I meant…of course I would never even consider it
.JACK
: *soulful look* That is a shame. If you should ever consider-- *dodges an empty rum bottle, gets hold of himself* Yes, yes, quite right, I should stick to what I'm good at.
Talking to women
. *draws out cards from his jacket* Please tell us about your pirate story,
Of Noble Birth
.
HELLIE:
Jack! What have I told you about that question?
JACK
: What, what? I didn't ask a question. I said, please tell us about your pirate story. If you'll notice that was a gentle command. *smiles smokily* And as you can imagine, Brenda, I'm skilled at giving gentle commands in other places on this ship. My cabin for instance….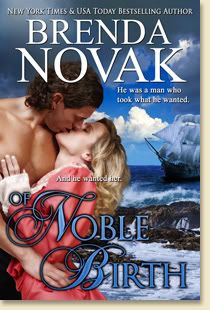 BRENDA
: I have imagined plenty with you, Jack (sly grin).
JACK
: Really? I should like to hear about what you've imagined. *ducks, tackling Brenda as another bottle just misses him, rights himself; Brenda looks a bit breathless* All right, if you insist, we'll talk about your books. I'm a patient man. I know how to woo. So this pirate story—which I'm devilishly thrilled about, there is a DEARTH of pirate stories to be had nowadays, it's all dukes-dukes-dukes all the time—tell the truth: you were inspired by me, right? Tell me what do you look for in a hero like me?
BRENDA
: Nathaniel is almost as sexy as you (could anyone be equal?) *Jack shakes his head "No"*, but he goes a wee bit lighter on the rum. He's too busy waging a war of revenge against his hated fater and kidnapping the beautiful Alexandra to lose an ounce of focus. His father is a duke, you see (any good historical has to have a duke in there somewhere, right?) and a very powerful man—no one to mess with. But Nathaniel has VERY good reason….
JACK
: All of us men have very good reasons. *roguish look at camera* Most of them dealing with pain of death. *silence; Jack clears throat* Every handsome, roguish hero needs a beautiful heroine. I assume you base all your heroines on you, Ms. Novak? *kisses the back of Brenda's hand* Intelligent, witty, beautiful, and sexy?
BRENDA
: Alexandra is a poor seamstress Nathaniel mistakenly believes is his half-sister. Imagine his consternation at being attracted to his charge!
JACK
: Yes, I can imagine the consternation. I was attracted to Hellie's sister once and it was a nightmare when she found out. Will you be writing any more pirate books? And if not, what other books do you have available to keep up with your fans' demands?
BRENDA
: I hope to write more pirate books some day, but I have several other types coming out before then. First, I have the romantic suspense books published by MIRA.
INSIDE
just came out.
IN SECONDS
will be out August 30
th
and
IN CLOSE
will hit bookstores on October 25
th
. November 1
st
will see the publication of my next historical. It's called THE BASTARD and is set in the late 1700's. Sadly, there are no pirates (but plenty of the aristocracy—including the hero who is the bastard of a marquise).
JACK
: And sadly, I have a close affiliation with the term "bastard" so it's just as well. *shuffles cards* This next question is the Writer's Inspiration Corner. What's your Call Story, and what piece of advice would you give other writers?
BRENDA
: Whoa, Jack, that's been some time now. Not to date myself, but I've been published since November 1999 and have written more than 40 books. So you're going back some. THE CALL to me refers to the day I hit The New York Times. Hitting the list had been a dream of mine from the very beginning. When my agent delivered the news I just about fainted. She said, "Are you sitting down?" I said, "No." She said, "I think you'd better sit down."  What made it shocking was that this was the second week the book had been out. Usually, if you're going to hit it happens in the first week. So her call was completely unexpected—and all the more memorable because of it.
As far as advice...dream big and then BELIEVE. If you believe you can achieve your dreams you'll do whatever it takes.
JACK
: You are a fine wine, Brenda, never fear. Our last question is a little author color—the pirates would like to know: 1) Name something on your nightstand right now; 2) Favorite place to go on a rainy day; 3) Men in Kilts or Men with Babies; 4) Favorite takeout; and 5) Last book you read that you loved.
BRENDA
: Sadly, a pair of reading glasses. My vision is suddenly not what it has always been before (due to age! Yikes! I hope you like older women <G>). My favorite place to go on a rainy day? To bed with my husband to watch a movie marathon. I prefer men in kilts to men with babies any day of the week (I'd probably run away from any man with a baby, at this point—but I don't see you toting one around.) My favorite take-out is Thai food, and the last book I read that I loved was Susan Elizabeth Phillips' latest.
JACK
: I love older women, but I don't love husbands. They're very cranky. So I won't be joining you for any movie marathons. Brenda, thank you for being a guest on our ship. It was lovely to have you. *whispers* And later….
BRENDA
: She's still recording, Jack.
JACK
: Right-o, and I was just saying you are welcome back any time, any time at all. Is there anything else you'd like to say or ask the crew?
BRENDA
: *Whispering* Where did you say your cabin was again? ;-)
JACK
: *grinning and throwing hands wide* And that's all we have time for today, crew! I hate to leave you to entertain amongst yourselves, but I did promise Ms. Novak a private tour.
In the meantime, feel free to discuss the challenges in writing in both a historical voice and a contemporary one? Would you do it, or do you do it? What authors do you think are best at both worlds? And finally, if you received a phone call telling you you just made the NYT's list, who is the first person you would tell, what would you do? Once I've shown Ms. Novak around...er...the block, I'm sure she'll be glad to field some questions. Ask away!