Sunday, June 12, 2011
Today we welcome Science Fiction/Fantasy writer
A.C. Crispin
to the ship. (Insert awesome, complimentary intro here.) Ms. Crispin has created a stew of jealousy among the crew with her latest project. Not only is it about pirates, it's about THE pirate, Captain Jack. But not exactly the Jack we know today.
Ms. Crispin, could you tell us about your latest release, PIRATES OF THE CARIBBEAN: THE PRICE OF FREEDOM?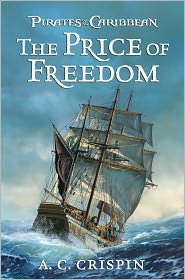 The Price of Freedom is the prequel to the Pirates of the Caribbean films.  It's Jack Sparrow's "backstory" of how Jack first became a pirate captain, and how many of the events we saw in "Curse of the Black Pearl" and the other films were set in motion.  In my novel, Jack is 25, with flashbacks to when he's 24 years old.  As the story opens, he's an honest merchant sailor, serving as First Mate on a ship called Fair Wind, and his boss is none other than Cutler Beckett.
Maybe with a younger Jack around, our rum supplies will last longer. How did you get involved with this project? And did you find it intimidating to take on such a well-known character?
Oh, Jack was drinking rum when he was in his 20's, no doubt about it.  He swills down quite a bit of it in my book.
Chance, hide the rum!
I was chosen to write Capt. Jack's "backstory" because I had done several books exploring the backstory of some famous media characters.  I did The Han Solo Trilogy for Bantam, where I covered the ten years in Han's life prior to meeting Obi Wan and Luke in the Mos Eisley Cantina.  When the Disney editor got permission to commission a novel about Captain Jack's backstory, she told me she began reading all of the Star Wars novels that focused on Han Solo.  She thought that I captured the character best, so Disney offered the project to me.  Naturally, I was thrilled at the prospect.
I found Jack Sparrow to be the biggest challenge yet in writing backstory, because he's really idiosyncratic.  No other character talks like Jack, acts like Jack, or even walks like Jack!  Disney also instructed me to write the book so it was historically and nautically accurate, where it didn't conflict with POTC film continuity. That meant I had to do a tremendous amount of research to get that period authenticity.
Bo'sun: *jaw drops* I can't believe you wrote about Han. I LOVED Han Solo. *clears throat* Sorry, back to the topic at hand. How much freedom did you have in writing the story as you saw it?
Once Disney decided on the time period in Jack's life for my story, I had a lot of freedom to develop a plot and new characters.  Disney told me where the book had to end, so the story I developed had to flesh out HOW and WHY those events in the POTC canon occurred.
I see on your website this book took three years to write. Was that due to your schedule or was Jack just that uncooperative?
I spent the first six months of that time just researching pirates and Pirates of the Caribbean.  Then, after I signed the contract, it took another year for Disney studios to approve the time period for my story, and the outline that I'd submitted based on that time period.  The actual writing time for the book was about 16 months of steady writing.
Bo'sun: Those Disney folks sure took their time. I understand young Jack has a love interest. We're always interested in the Romance around here. How did you create a heroine for Jack Sparrow?
Jack's true love is his ship…and the sea.  But I had a good time creating a couple of feisty female protagonists for him to encounter.  One is a pirate.  Esmeralda is the Pirate Lord of the Caribbean.  The other is a runaway princess who has been sold into slavery.  She's the magic worker in the story.  She's a mistress of illusion. 
Both women are strong and resourceful, but they are drawn to Jack, as many women are.  There's a funny scene in the story where Esmeralda and Ayisha meet and spend time together, while Jack is left alone for the evening, picturing them duking it out over him.  Instead the ladies get tipsy together, and have a great time talking about Jack.  When he realizes they've become friends and confidants, he's not sure how to react.  It's pretty funny.
Bo'sun: Ha! Two women against one Jack. Talk about karma. I also see on your website that you write full time, but some projects are delayed due to your workload. How do you handle time management and decide what projects get your attention?
When I am deep into a project, I write a lot, every day.  In the early stages of a writing project, it can be like pulling teeth to write my requisite number of words. But if you want to pay the mortgage and eat, you have to work, so I do.  I turned my attention away from my fantasy trilogy (that I still hope to complete, especially now that it's reverted to me) in order to take on the Disney project because it seemed so promising. 
Can you tell us what's next for you? Will there be more POTC books in your future? Or Jack's past?
I've recently started a new book, and I'm in the very early stages with it.  It's science fiction, a YA novel.  I was glad to return to s.f.  It's been a while.  I have no idea whether there will be more POTC books in my future.  That's a decision Disney will make, and they probably want to see how this book does.
Thank you so much for being with us today. We're quite proud of our extensive drink menu aboard The Revenge and like to add a lovely concoction in honor of our guests. For you we add the Sippin' Crispin. It must be sipped lest ye set your arse aflame.
LOL!  Thankee, mate!
So tell us, Pirates and Pirate Pals, what character's past would you like to read about? Is there a character's story you'd like to write? Ms. Crispin has some obligations today, but she will be in and out so feel free to shoot some questions her way.