Sunday, April 10, 2011
It is my pleasure to welcome back the lovely and talented Susanna Fraser. She's celebrating the release of her second Regency novel, but she's here to explain how having been through a book release before doesn't guarantee you'll be any saner the second time around. But first, let's see what this book is about.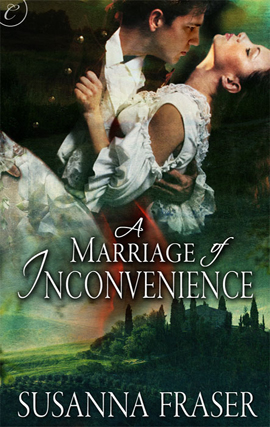 Lucy Jones is a nobody. As an orphan she was reluctantly taken in by her wealthy relatives, the Arringtons, on the condition that she be silent and obedient, always. When her lifelong infatuation with her cousin Sebastian is rewarded by a proposal of marriage, she's happy and grateful, even though the family finds excuses to keep the engagement a secret.
James Wright-Gordon has always had the benefits of money and a high station in society, but he is no snob. He's very close to his sister, Anna, who quickly falls for the dashing Sebastian when the families are brought together at a wedding party. Meanwhile, James is struck by Lucy's quiet intelligence, and drawn to her despite their different circumstances in life.
Lucy suspects that Sebastian has fallen for Anna, but before she can set him free, a terrible secret is revealed that shakes both families. Will James come to her rescue—or abandon her to poverty?
Today is release day for my second book,
A Marriage of Inconvenience
.  I suppose I get to call myself a multi-published author now, which has a nice ring to it.  But, you know what?  It's not really any easier the second time around.
When my debut book,
The Sergeant's Lady
came out last August, I was terrified of reviews.  What if they all hated it?  What if they didn't like my voice?  What if I really WAS the only one out there who missed the old "following the drum" Regencies?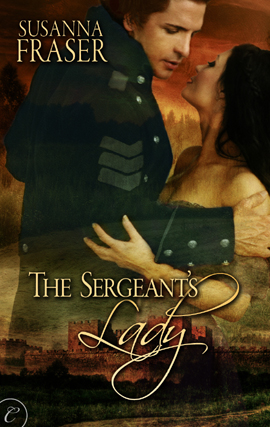 On the whole, I came through my first review process pretty well.  I got B's from Dear Author and All About Romance, neither of which are known for being easy to please, and overall I got lots of 4- and 5-stars.  Which you'd think would make me less scared this time.  But, no.  I'm still waiting with dread for my first really bad review, because I know it's inevitable.  And what if all those people who loved my first book don't like this one?  What if they're disappointed it's NOT a "following the drum" Regency?  What if they don't like its being a closely-linked prequel to my first book?  What if they don't like the fact that my hero is short?
I'm still nervous.  I'm still obsessive.  I still expect to be checking NovelRank and Amazon regularly, only now I've got TWO titles to do it on rather than just one.  Double the neurotic fun!
"But, surely you've learned SOMETHING, Susanna," I can hear you all thinking.  Well, now that I think about it, I have:  
- I've learned that people will STILL ask you when you're going to write a real book, only in my experience it's usually an e-book vs. print distinction rather than genre fiction vs. Great Lit-rah-chyoor.
- I've learned that I will always find a typo in the official, too-late-to-change, published version of my work that somehow my editor, my copyeditor, and I all managed to miss on multiple careful readings.
- I've learned that my 7-year-old daughter and I have very different valuations of money.  I think of my writing income in terms of "When can I think about quitting my day job?" By those standards I have a long way to go.  SHE thinks of it as, "How many Littlest Pet Shop toys and DS games could Mommy buy me with her next royalty check?"  In her eyes Mommy is rich rich rich!
- I've learned that if you're saving your vacation time for conference travel and taking your kid to Grandma's for Christmas and therefore go to work like normal on your release day...everyone expects you to work.  Like normal.  Personally I think I should be trailed by a dozen handsome cabana boys, half of them kilted and half of them in Napoleonic-era British riflemen's uniforms.  They should fan me, bring me chocolate, carry my bags, hold the elevator for me, and sing my praises. A cappella, and in perfect harmony, because I've sung in choirs since 4
th
grade and I have my musical standards.   A nice backrub wouldn't be amiss.  And at least one of them should be a math whiz who understands my day job world's policies and procedures inside out who'll do my job for me that day.  Because I am an AUTHOR! With a NEW BOOK!
I've also learned that there's no rush quite like getting a fan letter or seeing someone rave about your book on a blog or board.  And I've learned that there's nothing else I'd rather do with my life.
What about you?  Tell me about YOUR second time around...as a writer or anything else.  One commenter wins a copy of A Marriage of Inconvenience in their choice of ePub, PDF, or Kindle format.
A bit about Susanna... 
Susanna grew up in rural Alabama. After high school she left home for the University of Pennsylvania and has been a city girl ever since. She worked in England for a year after college, using her days off to explore history, from ancient stone circles to Jane Austen's Bath.
Susanna lives in the Pacific Northwest with her husband and daughter. When not writing or reading, she goes to baseball games, sings alto in a local choir and watches cooking competition shows. Please stop by and visit her at www.susannafraser.com, get to know her on Facebook at www.facebook.com/authorsusannafraser and follow her on Twitter at @susannafraser.