Saturday, January 8, 2011
8:05 PM
|
Posted by Hellie Sinclair
|
|
Edit Post
Seriously I only remembered I was supposed to even post the hotties ten minutes ago. I even have it written in my calendar, but I haven't checked that for a few days. I am fighting off a cold, which hasn't decided if it wants to fully arrive or not. I've been in denial about it--coughing and sneezing--but I think it might be here to stay. It would explain some of the sleep. I'm a sleeper, don't get me wrong, but this sort of sleeping is different.
But the few minutes of the day that I'm not snoring uncontrollably (it's really awful, what the hell), I'm reading my newest find at the UBS: Monica McCarty's Highlander Untamed. McCarty is my 2010 "new author find" and I've been glomming her as much as possible. It's been a long time since I've read a Highlands-set novel that I've enjoyed this much. I'm constantly raving about her books. Ask Bo'sun. Ask my co-workers. Ask complete strangers.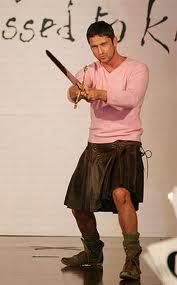 And if you ever get the chance, you should do this:
Robert Burns' birthday is January 25, and Scotland celebrates his birthday every year with some haggis and several pints. So if you want to see some kilted men in the flesh in your home town, that's your best opportunity to do so! Check out to see if your town hosts a Burns night near you.
And if you need something for your TBR pile, add Monica McCarty. You won't be disappointed.
Now let's hope I remember Monday's blog as well....