Thursday, January 12, 2012
I'm covering for 2
nd
Chance today who is headed to 
Her Royal Majesty's Steampunk Symposium
this weekend, being held on the Queen Mary. Does that sound awesome or what?? Well, in the true spirit of our woo-woo, metaphysical bartender, I decided to get a little ancient woo-woo on your pirate arses today.
Many years ago I read a novella by
Vicki Lewis Thompson
about an interior decorator heroine who uses Feng Shui to design the hero's home. The hero is a cowboy and the home is a ranch and a large, erupting fountain is involved. To this day, hardest I've ever laughed while reading a book.
But the point is, that was my first introduction to the ancient Chinese art of placement.
Though
Feng Shui
is still a mystery to many, most people have heard terms such as "Ch'i", "Yin & Yang", and "Tao". Today we're talking ch'i and how to get it flowing in our working area, with the positive result of the words flowing right along with it.
I have issues with clutter. My house is not spotless and will never be, but when the piles of clothes and paper and whatever else get to be too much, it's as if giant speed bumps have popped up in my brain. Until the clutter is abated, I can't concentrate and creativity is out the window. Every time I buckle down and clean my room (which is where I write) the speed bumps magically disappear.
Why? Because the Ch'i is flowing!
According to Skye Alexander in the book
10 Minute Feng Shui: Easy Tips For Any Room
, "[t]he goal is to direct ch'i – a vital energy that animates all life – through your environment so that its movement resembles a gently flowing stream or a pleasant breeze." If something is blocking the ch'i from flowing freely through your home, then it's also blocking the ch'i in your life.
By using Feng Shui, we can arrange furniture, incorporate shapes and materials and even colors to balance our living space. Achieving balance in the space will help achieve balance in our lives and our minds.
What writer wouldn't like to have more balance and an abundance of flowing creativity? Now you see where I'm going.
For those skeptics out there, I'll give you an example of a Feng Shui issue in my home. Again, according to Ms. Alexander's book noted above, all the systems of your home are a reflection of the systems in your body. The electrical system is a mirror of your neurological system. (As writers, we kind of need this one to work at full capacity.)
I bought this house 15 months ago and the electrical system isn't exactly right. The light switch that turns on the stairway light cuts off all electricity to half of the living room, including the outside light, if switched down. Also, if the two switches that operate the living room ceiling fan are not in the correct positions, the fan does nothing. These positions are non-negotiable as far as I can tell.
Did I mention some outlets don't work at all? Yes, it is an understatement to say my home electrical system is out of whack. If that isn't the best way to describe my neurological system these days, I don't know what is.
I can't concentrate, get motivated, or stay focused long enough to get any real writing, or what I need these days – revision, done. My wires are crossed and for all I know all the good words are currently flowing into my pinky toe. Or out somewhere else but I really don't think we should go there.
At this time, I can't afford to hire an electrician to rewire my house. However, I can rearrange my room and apply Ms. Alexander's suggestions to my work area in order to get things moving again. I hope.
The condition and even positioning of your work area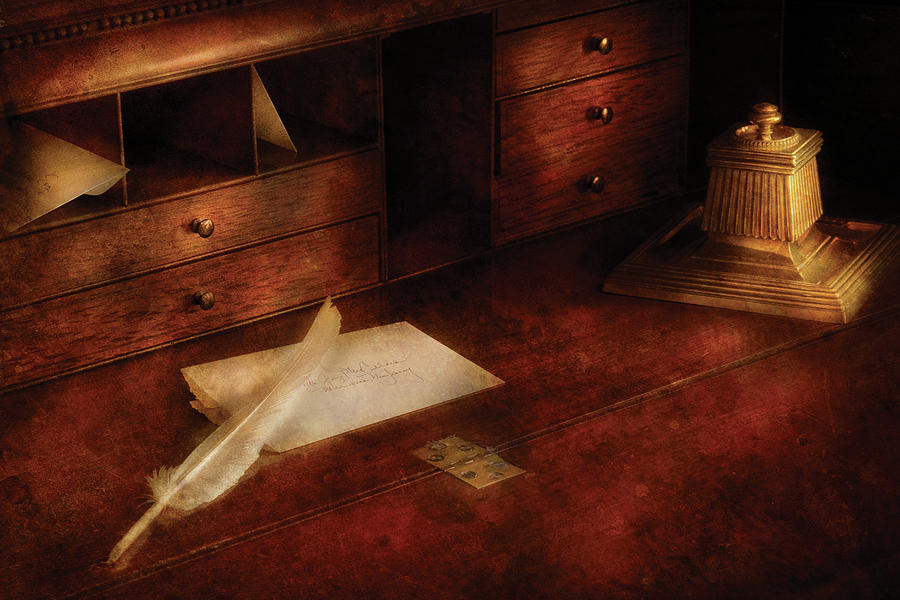 "describes your attitudes toward money, your ability to attract wealth, your career goals, and your overall work situation." It stands to reason that too much clutter on or around your desk could be holding you back. Here are three suggestions this author makes to help get that working ch'i flowing:
1. Face front!  – You need to feel relaxed and not as if anyone could wonder up behind you without being seen and startle you while you're working. I haven't figured out exactly how to make this work in my bedroom, but I plan to try it this weekend. I know when I've had my desk in an open space facing the entrance to whatever room I'm using, the words flow much better. (Wish I'd made that connection before.)2. Bring up the lights! – The better the lighting, the better you can see. If you can see clearly, then your mind can also see clearly. The added bonus is that more light means more ch'i and ch'i is what we want. Time to start using that desk lamp again!3. Cut the clutter! – Getting those piles of mail, receipts, story notes, and empty candy bar wrappers cleaned up and organized is going to, as Ms. Alexander says, "make room for money and opportunities to come into your life." Oh yeah, I'm on board with this one.
Now, if your desk is covered with clutter, you have books scatted around the floor, and your desk faces a corner but you're turning out the words and feeling good, by all means don't change a thing. BUT, if you're struggling (as I am) to get the brain working in the "write" direction, what harm would it be to try this?
What do you think? Are you interested in learning more? Think it's bunk? Let's talk writing spaces and tell us what works for you.