Tuesday, October 4, 2011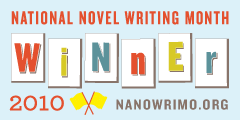 It is that time again! National November Writing Month is just around the corner. Can you feel my budding excitement?
No. Seriously. I'm excited.
So I decided to do a list of my top five things you must have to finish the race by 11:59pm on November 30. I'm hoping this will motivate you writers out there to join me on November 01 at 12:01am to start your own epic race towards the finish line.


Must have all your ducks in a row: This means if you don't plot, outline, grow characters, live and breathe conflict, at least try to do some leg work ahead of time. This will allow you to write freely when you start at 12:01am on November first. I'm not what you'd call a plotter- I'm more of a pantser- but I've learned over the course of a few years doing NaNo that prep works helps you get a couple of restful hours of sleep a night during NaNo.


Calm work environment: We all have our writing quirks. Movies playing epic scores in the background. Children screaming outside in the yard. Heavy metal screamer bands blaring through your headphones (Okay, that might just be me) but we need a place where we can drop our computers, pull out the keyboards and just pound the keys. If there is a stack of bills sitting beside you, you're going to be focusing on that. Not writing your story. So you need to clean up your designated computer space before the clock starts ticking away at the month of November.


Chocolate- or whatever your snack of choice is- and massive quantities of caffeine: This is probably the most important. When I get stressed out or I put myself (and my characters) in a delicate and difficult situation, I need to think. I do this by sitting back in my chaise lounge, head back, eyes closed, and munching on a Blow Pop. This is my assumed thinking position. And you must have your stress relievers on hand.


Procrastination is not your friend: Usually procrastination and I are hand in hand dancing through flower fields and blowing up mole hills together. We're like this *crossing fingers*. I tell my BFF Procrastination to take a hike during November and you can too. Be determined. Be prepared to fight. And believe in yourself. Procrastination is usually stimmed from when we lack confidence in our abilities to put the right words on the page. During NaNo there is no such thing. The beauty of NaNo is the free spirit of writing for the word count, not the overall quality. Worry about that in December.


Remember you're human: And that means don't pressure yourself. Fifty K in 30 days is a helluva push for the most seasoned of typers. Sometimes we get swept up in the thought of writing, and we no longer enjoy the process. I think why I enjoy NaNo so much is that it allows me to enjoy myself. My random tangents. My quirks of writing out of order, or no order at all. NaNo is meant to be fun. Allow yourself to have that fun and enjoy it for what it is- a reason to gather your friends and see who's the fastest BSer while writing that great American novel.


So there you have it. My Five things. What's your one thing you have to have while writing? What's the one thing you want to do differently this year during NaNo that you didn't accomplish last year? And to those of you who haven't joined us for NaNo, what are you waiting for?! Come have some fun with us!
If you'd like to friend me for NaNo here I am:
christietaylor