Sunday, August 21, 2011

I went along to my Dad's doctor's appointments on Thursday, and to keep myself distracted from dark thoughts that the doctors might have bad news, I took an old faithful with me: a romance novel. The book in question for this day was Cathy Maxwell's
THE SEDUCTION OF SCANDAL
. Historical romance? Check. Gorgeous cover? Check. Fun and reliable trope? Check. I was off to a brilliant start.
Despite my worries, the time flew because the story was so engrossing and a perfect distraction. At one point of the day, Dad and I were eating together and I had to make myself put it away. It was hard because I wanted to know how the story was going to work out. The villain(s) were dreadful. I was very invested in the outcome of the hero and heroine.
After I took Dad home, I turned on some little league baseball for him and put the book to my nose. I read as fast as I could, even with Dad interrupting me every ten minutes to say I could switch the channel if I wanted to watch something else. "No," I said, "this is fine. I'm almost done. I want to finish this book." So he left me be and I got to The End. It was a very satisfying ending for me. I put it down and smiled.
Dad asked, "Did it turn out like you wanted?"
"Yes," I said, "exactly like I wanted."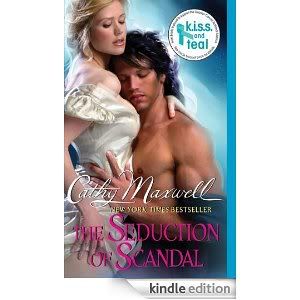 Therefore, if you too like escapist fiction of the historical variety with a gorgeous cover (I love the hero on this cover) and a fun trope, run out and read THE SEDUCTION OF SCANDAL. If you love highwaymen and a little rousing about the countryside that reminds you of the Headless Horseman, run out and read THE SEDUCTION OF SCANDAL. If you love heroes who are a little more beta and thoughtful than the average alpha, but also has a delicious alpha side—run out and read THE SEDUCTION OF SCANDAL. If you like heroines who are determined to rescue themselves; secondary characters who are so real they nearly pour you a spot of tea; and a horse you just want to root for: run out and read THE SEDUCTION OF SCANDAL.
This month, Avon has seven books for their K.I.S.S. & Teal promotion. The program donates much needed money to the research and awareness of ovarian cancer. Not only is the book I read great, but the books to choose from also include Caroline Linden, whose book
ONE NIGHT IN LONDON
was featured a week or so ago here and we will be interviewing Jenny Brown about her
STAR-CROSSED SEDUCTION
on August 29
th
. I'm sure like me, you will also want to be adding their books to your TBR pile.
Books we haven't yet featured, but I have a feeling most of us will be gushing about anyway in the weeks to come are: Lynsay Sands'
THE DEED
(which is about one woman's quest to get laid—who knew red-blooded men could be so disobliging? But don't worry: we know she's going to find a hero who will fulfill her every wish); Stephanie Laurens'
VISCOUNT BRECKENRIDGE TO THE RESCUE
(which features some kidnapping, so you know that will be fun. Kidnappers are almost always sorry for kidnapping the typical intrepid historical heroine. Gotta read that!); Katharine Ashe's
IN THE ARMS OF A MARQUESS
(which features my favorite trope: a mouthy spinster, since that's exactly what I am; and a hero named Ben. I'm sorry, but I just love men named Ben. This is going into the cart); and last but not least, Tessa Dare's
A NIGHT TO SURRENDER
(we've all been drooling for her next series, haven't we? And MORE spinsters! I'm so happy!)
This September, I plan to do my part with the K.I.S.S. & Teal program and read-read-read. It's an easy, ignore-the-dishes-and-children job, but I'm willing to do my share. I hope you are able to do the same. There is no shortage of great books to pick from.
QUESTION OF THE DAY: What book are you most looking forward to this Fall? What tropes do you most adore in romances? How do you like to distract yourself?