Sunday, July 24, 2011
I'm not sure how many Castle fans we have here, but I for one am very excited about the new season. But I'm also worried. In last season's finale, Kate was shot and Castle told her he loved her as she lost consciousness. My theory is she was wearing a Kevlar vest, so she's fine, but she's either going to pretend she didn't hear him or she won't remember what he said. I could be totally wrong, but that's what I'm going with.
Chance is also a fan of this show and adamant that you can put these two into a real relationship and still maintain the show. I have my doubts. I was worried when they put Bones and Booth together. Still waiting to see how that new season goes. Not a fan of how last season ended at all. It was as if the writers got to that last week and said, "Shit, we need a cliffhanger." And someone went, "Okay, let's knock up the most intelligent character as if she doesn't know how to prevent pregnancy."
Yeah. They'll have to win me back after that.
Anywho, the reason I'm not a fan of putting these kinds of characters together is because from that point on, the only real kink (heh) you can throw into their relationship is to break them up again. I don't like the spinning wheel of together/not together/back together/apart again. Not that people in real life don't get together and break up all the time, I just don't see it handled well on television very often. Putting the characters together killed off both Moonlighting and Remington Steele, two shows I adored. And I know those are ancient history, but I'm old so deal with it.
This got me thinking about Romance novels. We all know a book has to have conflict and if it's a Romance, then it not only needs some external conflict to drive the plot, it needs internal conflict to drive the relationship. In Historicals, class, family, and societal rules often stand between the love interests. In Contemporaries, it's more the characters' histories and experiences that taint their beliefs, perceptions, and even their self-esteem.
But in the end, we readers must believe that couple is together forever and nothing is going to pull them apart. I once read two connecting books by
Dorothy Garlock
, WITH HEART and AFTER THE PARADE, both of which are about the same couple. The setting of the first is pre-WWII Oklahoma. Tough times by any standard, but this couple faced obstacles that include her being an outsider moving into town and him being part Native American. In the end, they found their HEA and I loved that book.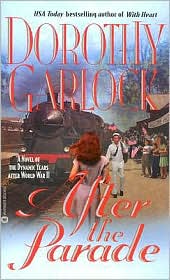 AFTER THE PARADE picks up after WWII and the couple are now separated. I read these books long ago. Long before I contemplated writing one of these things and having all sorts of rules thrust in my direction. I'm pretty sure breaking up characters to whom you already gave a HEA would not only be frowned upon, but lead some to think the writer was nuts for undoing what she'd created for her readers.
However, this second book, to this day, is one of my favorites. I have rarely cried as hard as I cried reading this book. The couple deals with the loss of a baby, who was born deformed. The personal blame they each take on results in pushing the other away. Their journey to forgive each other, themselves, and find love again will stay with me for many more years to come.
But would you read something like this today? Would you tolerate spending 400 pages of two people overcoming prejudice, doubts, misunderstandings, and external meddling to reach a satisfying HEA and then dive back in for another 400 in which that HEA is completely undone? Do you hope for your favorite characters to get together or do you prefer that sexual tension keep simmering to a boil?PS: Ms. Garlock is an amazing writer and I urge you to seek out her books if you haven't already. Her career spans more than 30 years and her books range from the great frontier to the mid-20th Century mid-west.