Tuesday, May 4, 2010
*camera zooms in on Captain's Quarters, specifically onto a bright tartan blanket, which appears to have a pair of bodies writhing beneath it*
Captain Jack Sparrow
: Did….
*high pitched feminine squeal and a slap of flesh hitting flesh*
CJS
: I suppose I deserved that. Excuse me, luv, I work better with light in the room. *pops up from the top of the blanket* There, that's much better. Don't you agree?
Blythe Gifford
: *emerging from the blanket as well, hair rumpled, slightly disgruntled* I'm sorry we didn't find your rum bottle. *straightening hair*
CJS
: What were we doing before my rum went missing? Oh, yes… *grins roguishly* We were talking about your new novel,
His Border Bride
, and about heroes who are born on the wrong side of the blanket, like me.
Blythe
: You were born on the wrong side of the blanket?
CJS
: I think so. Isn't that what it means when people call you a bastard?
Blythe
: Not always. But in my hero's case, he really was born on the wrong side of the blanket. He's a bastard by birth, not personality. Gavin Fitzjohn is the illegitimate son of a prince of England and a Scots woman. Not only is he torn between royal and noble, he's torn between two kingdoms. "A rebel without a country," as the back cover copy says, he's a man with a reputation so terrible, he's outcast by both sides. He refuses to try to change anyone's opinion of him. He just puts on that lazy smile lets them think he's as bad, or maybe even worse, than the rumors. He's my first "bad boy" hero.
CJS
: You mean I'm not your first?
Blythe
: *bats eyes and smiles*
CJS
: He sounds like he has a reason to be cranky--*sniffs*--much like me. I feel sorry for the poor girl who ends up with him. What's she like? A hellion who can match him toe-to-toe, or an angel of the house who he couldn't even begin to deserve?
Blythe
: A woman who is looking for the perfect "knight in shining armor," of course! Clare Carr expects perfection in herself and in her future husband. But Gavin's business, like that of any knight, was violence, dominance, and death. It's no wonder that a "knight in shining armor" might hide some dark deeds beneath the shiny façade. Or, that the bad boy might see beyond a woman's spotless reputation to the things she'd prefer to keep hidden…
CJS
: Ooo. A beauty with hidden secrets. I like her already. What is it about Medieval history that interests you? And how much research do you do for your stories?
Blythe
: I've been interested in the 14
th
century since I read Anya Seton's
Katherine
in Junior High. It is the story of a lifelong love affair between John of Gaunt, a son of Edward III of England, and Katherine Swynford, his mistress of many years. They had four children together, eventually married late in life, and their descendants sat on the throne of England. It sparked my interest in the royal family, the 14
th
century, and children born on the wrong side of the royal blanket – all the things I write about today!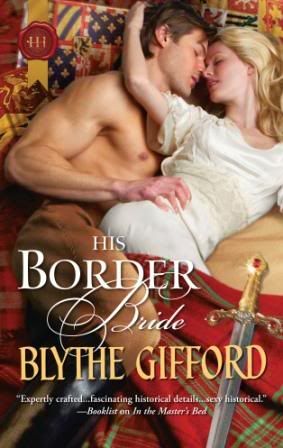 In addition, I write angsty historicals and to me, the medieval period seems very conducive to the wounded hero. I do a lot of research, but that's one of the things I love about writing historical. Somehow, I'll discover an historical tidbit and it's as if I've found a piece of my character's backstory. The story grows as I explore the period.
CJS
: And do you find it challenging to write Medievals when it seems like most historicals are set in the Regency or currently, the Georgian era?
Blythe
: There are many wonderful writers of Regency. No reason to be a "me, too" in a popular time period when another one really speaks to me. Writing medieval means it may be a little more challenging to find my readers, but it would be even more difficult if I were trying to chase the market.
CJS
: That's my philosophy. I let the ladies come to me, if you know what I mean. *Blythe raises an eyebrow; CJS clears throat, changing subject* The crew always—ALWAYS—wants to know about Call Stories. What is your Call Story?
Blythe
: Actually, my best Call Story was when I got the call that my manuscript had finaled in the Golden Heart contest. This was back in the dark ages and they made the calls on a Sunday night instead of posting on the internet after each call while we all hit refresh every ten minutes. I had no expectations, so I was watching the Oscars at 8 p.m on a Sunday when I got a call from a Phoenix phone number. It was Tara Taylor Quinn telling me I was a finalist. I was totally, totally incoherent. She was trying to explain what was to happen next and finally, I sort of blubbered, "Do I have to do anything intelligent tonight?" I have a picture of myself that evening in my jammies with a bottle of champagne! (Rule to live by: Always keep a bottle of champagne in the fridge in case a celebration breaks out. Although rum will do in a pinch.)
My real Call Story, which came nearly two years later, wasn't quite so dramatic. Harlequin had had the Golden Heart manuscript for months and I had spoken both to the editor and senior editor, so The Call (at 10 a.m. in the morning) wasn't exactly a surprise. I was prepared with my list of questions and all, but I had just gotten out of the shower and had one contact in and one out. So I really did need to ask if I could call back because without my eyes in, I was even more disoriented than you might expect!
CJS
: What are you working on now?
Blythe
: I just signed a contract with Harlequin for three more historicals, so I'm working on the first. I'm a little superstitious about saying too much too soon. I will say I've stayed on the Scottish borders, but I've changed time periods. (And no, not to Regency!)
CJS
: And lastly, what writing advice would you recommend to aspiring authors?
Blythe
: Know why you write what you write, beyond the desire to be published. I do not downplay fame and money! I'll happily accept more of both. But when you are sitting at the keyboard facing a blank screen, those aren't the things that bring forth your most authentic work. It's the soul you bring to the page that connects to the reader. That's what brings them back for more.
CJS
: Blythe, I must say, you have been a most gracious, beautiful guest, and I've had a most lovely time rolling around in the blankets with you. I still think it would have been perfect with a bit of rum, but nonetheless, just lovely. Is there anything you'd like to say or ask the crew?
Blythe
: Thanks so much for having me! I love to have visitors so come see me at
www.blythegifford.com
or at
www.facebook.com/BlytheGifford
.
I'd love to hear from the crew about what everyone is working on (or reading!) and what calls to them about their own genre or setting. BLYTHE GIFFORD
is the author of five medieval romances from Harlequin Historical. She specializes in characters born on the wrong side of the royal blanket. With HIS BORDER BRIDE, she crosses the border and sets a story in Scotland for the first time, where the rules of chivalry don't always apply. Here's a brief description:
Royal Rogue:
He is the bastard son of an English prince and a Scotswoman. A rebel without a country, he has darkness in his soul.
Innocent Lady
: Daughter of a Scottish border lord, she can recite the laws of chivalry, and knows this man has broken every one. But she's gripped by desire for him—could he be the one to unleash the dangerous urges she's hidden until now?
Her 2009 release, IN THE MASTER'S BED, has just finaled in the Readers Crown contest. Blythe loves to have visitors at
www.blythegifford.com
or
www.facebook.com/BlytheGifford
.
Cover Art used by arrangement with Harlequin Enterprises Limited. All rights reserved. ®and T are trademarks of Harlequin Enterprises Limited and/or its affiliated companies, used under license. Copyright 2010 ■ Author photo by Jennifer Girard